How Do I Store & Display
My Currency Collection?
This is hands-down our #1 question and so after many attempts, here is our best solution. 
Buy a 3-Ring Binder for your Collection
You can go the inexpensive route, or go upscale.  Either should work just fine.
*Due to the nature of top-loading pocket pages, we recommend using a zippered or slipcase binder.
Use a 1-Pocket Page for the Documents
These are single 8x10 pages that open at the top and are perfect for holding all the country documents.  Keep in mind, there top of the page remains open so some care in handling the folder is important.
Use a 3-Pocket Page for the Currency
On the opposite side, use a 3 (or 4) Pocket page to display your currency collection.  As in the image, the top 2 slots display the banknotes, and the bottom slot holds the coins inside the coin flip.
As is the case with the 1-pocket page, each slot is top loading and therefore the folder should be handled carefully to avoid items falling out.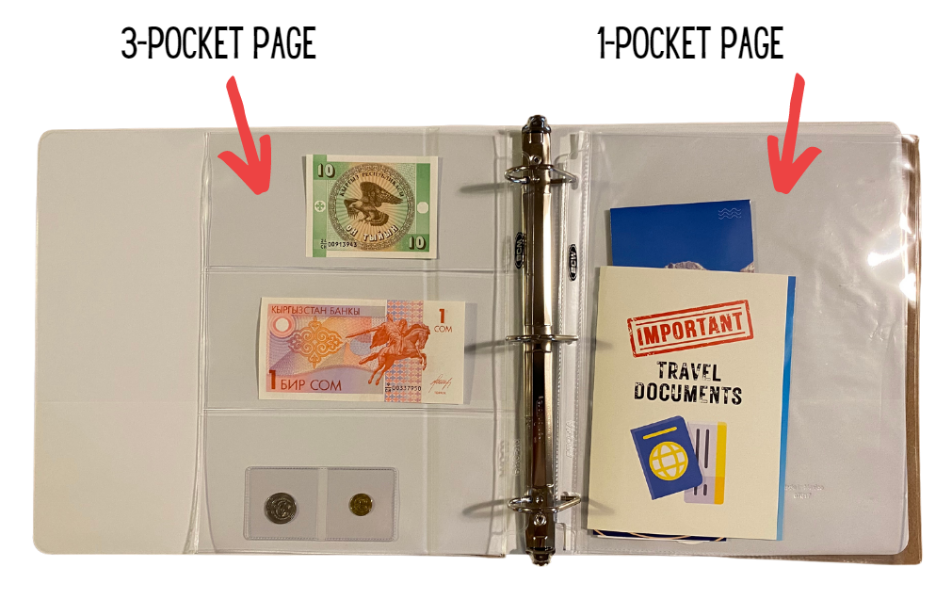 To secure your collection, we recommend using one of the following zippered binders or slipcases.
3 Ring Zipper Binder
Discover the ultimate storage solution for coins, currency, and trading cards with Guardhouse Shield Zipper Binders. Choose from a vibrant variety of colors, and store your standard sized 3 hole punch pages and plastic notebook pages with ease. The textured front and back covers are crafted from top-notch materials, while the plush lining adds an extra touch of luxury. Enjoy a premium look and feel with the full zipper that delivers smooth opening and closure.
Product dimensions: 10.5 x 13 7/8 x 1.
First, pick a color.
XL Padded Binder With Slipcase
Introducing the Lighthouse stylish extra wide 3 ring binder, featuring a padded leatherette cover complete with a matching slipcase. Depending on the sheet type, it can hold up to 80 sheets, so you can store all your documents and notes with ease. With an overall size of 10 7/8 x 12 1/2 x 3 1/4 inches (275 x 318 x 83 mm), it's perfect for keeping your collection safe & accessible.
First, pick a color.
Padded Binder With Slipcase
This Lighthouse 3-ring leatherette book binder cover features gold foil graphics that add a touch of class. Together with the 3-ring Binder w/ Slipcase, it can hold up to 30 sheets, making it the perfect way to display your foreign currency collection. Measuring 10 1/4'' x 12 3/4'' x 2 1/4'', its compact size ensures easy storage.
First, pick a color.
Currency pages will hold and protect your currency while making an excellent and convenient display case.
Currency Pages
These BCW Currency pages are perfect for safeguarding modern US currency. These PVC-free and acid-free pages are of archival quality, ensuring long-lasting preservation. The high-clarity polypropylene and top-loading pockets with strong welds enable easy viewing and retrieval of currency. You can use any standard 3-ring binder or album, making it convenient for you to store and display your collectible currency.
Order in quantities of 10 or 20 pages.
Pocket Size:
1 Pocket 8.5" × 11"
3-Pocket Page: 1.5" x 2.75"
4-Pocket Page: 2.625" x 6.125" + 1.5" x 2.75"
The 4-pocket page has an extra pocket for labeling
First, choose a pack